The VITIPRO members have mother grapevines and grafts at their disposal that allow them to realize lots of different assemblings in order to come up at best to the winemakers' needs.
STOCKS FOR GRAFTINGS
Choosing a stock for grafting that corresponds at best to your soil and climate is of the utmost importance if you want your vineyard plantation to thrive.
The most important limiting factors are :
- Limestone resistance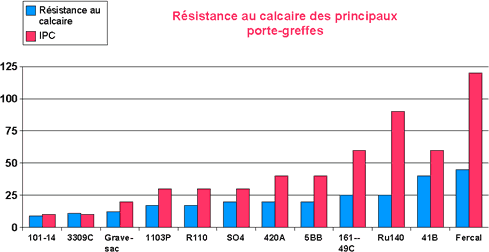 Limestone resistance is determined by 2 values : the percentage of active calcium and the IPC (Indice de Pouvoir Chlorosant - chlorose provoking factor). The percentage of active calcium contains only the fine and soft elements of calcium carbonate that are harmful to the grapewine and cause freezing of iron, that means chlorose. Furthermore, certain soils with an important percentage of calcium may show in the same time a lack of iron easy to extract. Depending on the type of stock for grafting, this may increase chlorose risk. The IPC measures this risk.
- Robustness
It must be appropriate to the soil fertility and to the final product you wish to obtain: cru, appellation or vin de pays. It may also be determined according to special specification data made up between the producer and the one who launches the product.
- Dryness resistance
It depends on soil texture and structure but also on rooting of the stock which may be running (less resistant) or plunging (more resistant)
CARACTERISTIQUES PORTE GREFFE
Porte Greffe
101-14
3309 C
1103P
R110
140 Ru
SO4
41 B
Fercal
Composition Génétique
V.riperia X V.rupestris
Vitis Rupestris X Vitis Berlandieri
Vitis Riperia X Vitis Berlandieri
Vitis Vinifera X Vitis Berlandieri
Résistance au calcaire actif
9%
11%
17%
17%
25%
17%
40%
40%
Adaptation à la sécheresse
- -
+
+++
+++
+++
++
++
+
Adaptation à l'humidité
++
+
++
-
-
++
--
+
Vigueur conférée
+
++
+++
+++
++++
++
++
++
Précocité
+++
++
-
-
--
-
--
+
*Source INRA Montpellier
TYPES OF VINE

In order to meet w ith your needs, VITIPRO offers you a complete range of grapewine varieties, as there are:
Red wine varieties: Syrah, Cabernet Franc, Tempranillo, Caladoc, Cabernet Sauvignon, Cot, Merlot, Cinsault, Grenache Noir, Niellucio,  Carignan, Marselan, Mourvèdre, Pinot..
White wine varieties :Chardonnay, Sauvignon blanc, Viognier, Roussane, Marsanne, Piquepoul, Grenache Blanc,  Bourboulenc, Clairette blanche, Colombard, Vermentino, Ugni-blanc, Muscat à petit grains....
As well as differ ent types of ordinary wines (Please contact us for further information on this behalf)
We are prepared to offer you all types of assemblings if you inform us of your next year's planting ideas on January 15 of the running year at the very latest (that means: on January 15 of year N for planting in spring of year N + 1)